Well well well, what a few weeks it'd been huh.  Cheryl Fernandez-Versini is allegedly 'going steady' with new beau, One Direction's Liam Payne, prompting a surname predicament – again,  it's been Kylie (Minogue) vs Kylie (Jenner) re the exclusive use of the moniker (ha dream on Jenner!), and THE awards event of the year, The Oscars, took centre stage in Tinseltown amid a barrage of racial controversy.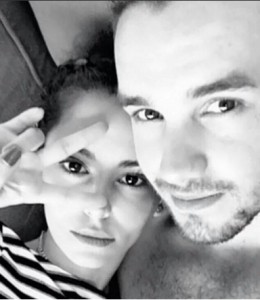 I'm sure you'll agree it's been rather a juicy one all in all, with opinions and what not been thrown around with more gusto and controversy than the hazardous conditions on Channel 4's The Jump….and I'm just talking
about Chezza and Liam!  The Oscars came and went though, relatively quietly, with the man of the moment, justifiably the delectable Leonardo Dicaprio, who after yonks for waiting for one, finally picked up a coveted trophy for his role in The Revenant.  Well done Leo, you've always a been a firm favourite at our gaff.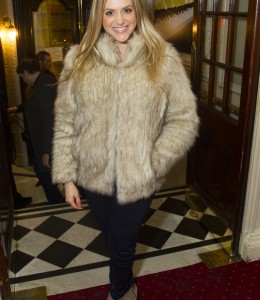 But this week, for me, it's all been about Beautiful the Musical, which showcases the incredible Carole King's music and life story from the past few decades.  Celebrating it's first birthday in London's Theatreland, this show is responsible for helping my husband and I choose our wedding song at the end of last year, 'You've Got a Friend'….upon hearing it the first time we saw this show when it first opened, it resonated so much that it now has a place in our hearts forever as 'our' song.  Ahhhh.  That is some testimony for how much we enjoyed this show!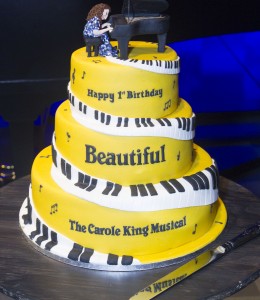 Celebrating it's first birthday at a celeb packed gala night, the theatre was bursting at the seams with stars and journos all looking forward to a good sing song and 'mum/dad dancing' – I speak for myself here.
It's rare that I enjoy a show as much, let alone more the second time around, but I actually can honestly say, that for Beautiful, I did.  And my picky non-musical fan husband also agreed.  The cast, the costumes, the routines, the sheer talent (the lead Cassidy Janson is incredible) – when it comes to vocals and musicians it will not leave you disappointed I can promise you.
In a climate where West End shows have to pack a serious punch in order to get an extended run, the fabulous new is that Beautiful The Musical is to continue for another year at least, into 2017, so should you fancy a top night of singing, dancing and nostalgia (hey, you may even pick YOUR smoochy wedding song!) then do visit http://beautifulmusical.co.uk to nab your tickets now.  ENJOY peeps.