Give Your Skin Some TLC
As a TV Presenter and a Life Coach, my life can be pretty hectic at times. Early mornings & late nights can take its toll and skin can appear washed out with a dull complexion. Yes, make-up 'can' help but I believe the best beauty regime starts with a good skincare routine. Exfoliate bi-weekly and cleanse, tone & moisturise religiously which will result in a beautiful, radiant complexion, and healthy looking skin.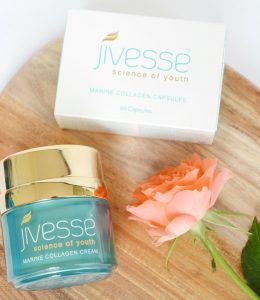 An effective moisturiser you can trust to enhance skin's natural appearance is essential. The most effective will hydrate skin, helping maintain its plumpness, suppleness, firmness and youthfulness. This is the beauty of Jivesse Marine Collagen Cream.
Its active ingredient is Marine Collagen, which according to many dermatologists, is effective in the fight against anti-ageing. And as I am fast approaching 35, I was keen to find a moisturiser that was able to not only keep my skin looking healthy & radiant, but also to help slow down the inevitable appearance of fine lines and wrinkles.
On first use, I was dubious about this cream as it had such a thick consistency, but it applied easily & smoothly and with a seemingly nourishing texture that absorbed into my skin quickly. There was no excess residue on my skin – it simply felt 'moisturised'.
The best thing about Jivesse Cream is the amount of hydration it gives skin. Dehydrated skin looks dull & aged, but hydrated skin appears more youthful due to its plumpness which is more often associated with childhood and adolescence. This plumpness reduces the appearance of lines and wrinkles by helping smooth skin.
The luxurious packaging is another noteworthy feature, which adds a real touch of glamour to this brand. The jar itself has an innovative pump mechanism that ensures the cream is sealed within an airless container, preserving the quality of the ingredients (which, let's face it, is important, as finding a skin care product that finally works for you but that 'spoils' half way through use is somewhat inconvenient to say the least). Its reliability in skin care results as well as its quality is another reason I favour Jivesse over any other collagen cream.
So with the ingredients fully preserved and its anti-ageing skin care benefits galore, Jivesse Marine Collagen Cream has all the benefits you may find in several skin care products, rolled into one.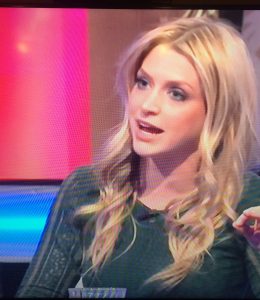 For me, as a busy presenter and life coach, time is often of the essence when going about my daily routine, and it's essential that I take good care of my skin. Jivesse is the perfect solution and really does deliver on results. I ensure I cleanse, tone and moisturise twice a day, with the moisturising part the most important to keep my skin hydrated and smooth. My advice for fellow busy ladies is never be too busy to take care of yourself – you deserve some daily TLC in your skincare routine at the very least.
if you'd like to take advantage of getting your Jivesse products for a fraction of the price, please use the special code to get a fantastic 15% off Jivesse Marine Collagen cream, capsules or the bundle – enter code JVANNA at www.jivesse.com when you get to the shopping cart check out.
Anna x