Top of the Summer to you my lovely lot!  What a start to the season eh, it's been non stop for me with my showbiz shenanigans, fitness, and counselling going from strength to strength.
I'm delighted to have joined top Kids magazine Girl Talk as their new agony aunt, and with the next two issues under my belt I'm already enjoying getting stuck in.
I've also recently been announced as health and lifestyle magazine Top Sante's new agony aunt and features writer.  Am so chuffed to join a such a brilliant leading publication and we've already got some fab stuff planned for my debut issue.
It's summer and I'm thrilled to have been back on ITV's This Morning with hosts Eamonn and Ruth.  They really are the most down to earth and genuine couple and I love working with them and having a good spat with Eamonn! Haha.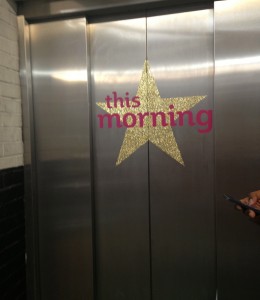 In between stalking movie premiere red carpets all in the name of showbiz news of course (!) for my weekly Digital Spy entertainment column, I've been very blessed to have experienced some beautiful mini-breaks over the past few months.
Celtic Manor in Wales is an absolute corker of a resort and is HUGE!!  I stayed in their brand new Hunter Lodges which, let me tell you, are nothing short of breathtaking….so much so I want to build one of my own!  Boasting hot tubs, entertainment systems and the most stunning rural views, this place really has to be visited to appreciate the sheer luxury of it.  I cannot wait to go back.  Thanks to all who looked after us, a stunning stay.
And if that wasn't nice enough, I was truly spoiled when visiting the opulent and majestic Hanbury Manor hotel in my home county of Hertfordshire last week.
If you're after a pampering weekend with a 5 star restaurant, manicured gardens and luxuriously traditional rooms with four poster beds, this is the place for you.
A favourite amongst the most discerning of brides for their special day, this hotel really does offer it all with multiple venues to choose from – my favourite has to be the Garden Court which is like something out of a glossy magazine with its orchard setting and conservatory.
Thankyou to Sharon and all at Hanbury Manor for a wonderful stay, it really was first class from start to finish and I've not stopped talking about it to my friends.
All that lush food and champers has meant I've had to step my fitness up a gear to look red carpet ready, so thank goodness Andy McGlynn and my pals at LifeStyle Fitness are on hand to chivvy me along.  The team are recruiting for new aspiring personal trainers on their industry leading programme, so if you're needing a new challenge, a career change perhaps, then why not check out the various options the team have up for grabs, all the support you need is included too http://www.lsfpt.co.uk/careers-pt
You can also keep up with all the latest news via @lsf_pt or give the team a shout on www.facebook.com/LSFPT – Andy has recently done a brilliant article dispelling all the 'myths' and wrong ideas people sometimes have about Personal Trainers, it makes for a great informative and honest read…(copy and paste the whole link into a new browser to read)
http://www.femalefirst.co.uk/health/fitness-myths-about-personal-trainers-debunked-472059.html?dm_i=1IYM%2c2HCQ8%2c88ZZ6H%2c91817%2c1
I've been getting my culinary skills up to speed and joined Dipna Anand at her The Brilliant cookery course in Southall.  Like most people, I love a good Indian but am hopeless at knowing how to cook the delicious cuisine myself.  Look no further than Dipna's easy to follow cookery courses.  I did the Tikka Fantasy course and learnt how to make my own chicken tikka masala and lamb kebabs to name a few things I can now boast as part of my Punjabi cooking repertoire.  If you're after learning something new or perhaps a gift voucher for that hard to buy for other half, this is a great solution!  And with the chef's at The Brilliant responsible for teaching chef Gordon Ramsey they really do know what they're talking about.
http://www.brilliantrestaurant.com/indian-cookery-courses/about-our-cookery-courses/
Well that's all from me for now, do keep in touch via my twitter @annawilliamsTV or www.facebook.com/annawilliamsonofficial for all my latest news.  I'm in the middle of adding to my complimentary therapies qualifications with a Life Coaching and NLP Diploma currently in progress….soon I'll be offering my services up to those requesting them.  Stay tuned for details.
Anna x